/
David Sedaris MasterClass: A Full Review for Writers
David Sedaris MasterClass was a gift from God this year, one of the only gifts I would cling to while my life shattered to pieces. It wasn't enough to get me through, unfortunately, but nothing would have been.
Anyway, hi, I took the David Sedaris MasterClass. Here are my full thoughts and opinions.
I'm a blogger, but I'm also a freelance writer and a huge David Sedaris fan. I took this course to see if it would help me write better. Here are my results!
*This post contains affiliate links
David Sedaris MasterClass Review
I wrote a lot of details of the beginning of the class here. If you're taking the David Sedaris MasterClass, tweet me and let me know:
I'm taking the David Sedaris MasterClass!
Click To Tweet
If you're barely hanging onto life and wondering what it's all for, tweet me that too:
I'm clinging to any shred of hope that there is still a chance of happiness in my future!
Click To Tweet
I'm only mentioning my own mental health because it greatly impeded my ability to finish the course. It also may have clouded my judgement along the way, so I just need you to know.
If you prefer to watch rather than read, here is my video review:
I try to say different things in my blog/vlog so that you're not getting the same content twice, but most of this is a recap so there are some similarities here.
My Biggest Critiques About the David Sedaris MasterClass:
I'm going to start with the "bad" parts, because I know we all like to know the worst parts of something before we try it:
1). No Advice for Navigating the Writing Industry
To be fair, this course is simply called "David Sedaris Teaches Storytelling and Humor." I don't expect anyone to fully cover a massive industry, but David Sedaris could very well do this. He's been a prolific writer for decades. He is the definition of a successful writer, and I just wish we had a small glimpse into how we might aim for something similar.
However, David Sedaris is also an OG writer, so his industry advice may not be current. I would have taken any advice he'd give, but I think for modern writers, the key to success is just "have a ton of followers and post everywhere constantly."
2). Awkward Video Editing
MasterClass has SUCH high quality production. The teachers, the film, the audio is all incredible. This makes it even more odd and frustrating when they leave massive pauses between sentences. It made the videos much longer than they needed to be. This is not a huge deal and didn't ruin the class or anything, I just wanted to mention it.
3). No Workbook Integration
The workbooks in each MasterClass are crucial for actually learning the material and putting it into practice. I also use it as a helpful schedule so that I know where to take a break in the course. Usually, the workbook and course are closely intertwined, so you can easily follow along. In this course, the workbook and videos were almost entirely separate entities. If you're someone who doesn't bother with the workbook, you'll definitely miss 60% of this class.
Again, this isn't a dealbreaker – I'm just telling you as a precaution so you can be prepared. The workbook is absolutely necessary in this course because all of the exercises are there, and that's where you'll learn the most.
What I Loved About the David Sedaris MasterClass:
Although there were a few minor things I would change, I loved the class overall. Here were my favorite things about the course:
1). David Sedaris is One of My Favorite Authors
Obviously this is a very biased reason, but one of my favorite things about MasterClass is that you can learn from people you love, and you can trust that they know what they're talking about.
2). Fantastic Writing Exercises
The exercises helped me so much (when I wasn't too depressed to do them). I shared a lot of the short stories I wrote on my YouTube channel, but they aren't applicable to music so I won't post them here. Each "assignment" is designed to get you out of your own head, try new techniques, and add personality to your writing.
3). I Can Confidently Say That I Learned a Lot
I've taken writing classes before. I've been a freelance writer and blogger for years. There were tools and techniques in this course that I truly did not know, that I will continue to use.
Did the David Sedaris MasterClass make me a better writer? I would like to think so.
However, writing is a skill you improve over time, through consistently doing the work. Like any creative skill, it's also subjective. Someone who just started yesterday can already be better than someone who's done it for years. That's one of many infuriatingly confusing things about life. However, I did get a lot of use out of this course and I feel I will continue to use skills I learned for the rest of my writing life.
Although my mental health made it grueling to finish the course (or do literally anything) for months, I can definitely say that I enjoyed this class and it was one of the small bright spots in this abysmal year.
If you've read this far, you've probably decided whether you like my writing or not.
In my earliest blog posts, I tried to simply write informative, fact-based posts. I didn't want to offend anyone and I wanted everyone to like me, so I didn't write like any human would speak. Writing with your personality might alienate some people, but writing that is devoid of personality will appeal to no one.
If you did enjoy reading this, I'm happy you're here! Please subscribe if you'd like to join the Melluminati, my cult where we share all things music and writing.
If you'd like to see more of my writing that isn't about music, I have a blog about crystals and hippie stuff here. I put a lot more personal stuff there, so it has a lot more personality in it. I still want this blog to be a place that focuses on music.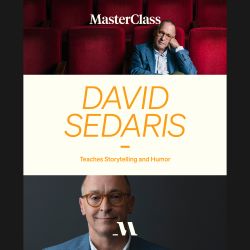 I hope this helps you decide whether or not the David Sedaris MasterClass is for you!
If you'd like to take the course through me, I will make a couple of dollars and you'll have my gratitude forever:
Click Here for the David Sedaris Masterclass
MasterClass is now doing exclusively All-Access Passes where you can take any class at any time, which is how I do it and recommend it anyway. So even if you're not sure about the David Sedaris one, you can take any of them through here.
If you're not sure what other classes there are, I've reviewed a few of them but here is the home page so you can browse.
You can give MasterClass as a gift! It's a great idea if you know someone who's a huge fan of any of the teachers.